Real Time in Timing Solution
Timing Solution has a real time feature. If you are used to work with other modules of the software, when you switch to real time, be prepared to the simple fact that the situation with this feature is constantly changing. This is not a Timing Solution problem; it is a reflection of the changes on the market of real time data. For your practical needs remember that you do not need too many intraday data. For most used techniques (wavelets, diurnal cycles, Turbo cycles module), 1-2 months of intraday price history is enough. You will need much more price history only for back testing module (for example, if you would like to find the best parameters for Turbo cycles module), and the good thing is that for this task you can use static data (recorded, not the real time flow), this is one time need.
See below the update for real time features in Timing Solution as of August 2011:
eSignal - they provide the most clear data, and they are the most expensive as well. Last fall they announced the version 11, though for Timing Solution features you still have to download the version 10. It is possible to use both versions, 10 and 11, on one and the same computer. You should download 32 bit version. I plan to develop the interface for TS features compatible to v. 11 within several months. For now, you can work with version 10. The problem with eSignal is that it is hard to work with them (not for you, for me as the software developer). They constantly change something, and their changes tend to restrict previously available features. It means that some feature that worked well one year ago may be not working at all now. So I use only their basic features - just to be sure that they will be present in the future. Therefore, I prefer to wait for about a year before incorporating their new features (like those in the version 11); it is enough time for them to finish the development of new features and to fix the errors. I am not trying to find some excuses for myself. They really tend to restrict the possibilities. For example, several years ago it was possible to download long term intraday price history, while now you should pay additional fee if you want to download more than 6 months of intraday data. In the version 11 it is impossible to import the price history into Excel file (at least I could not find it) while this feature was available in the previous version.
Interactive Brokers - they are not so costly, the data is good but not so clear as eSignal's. Personally, I like this company as they provide a very reliable interface for data feeding. If in the future they increase the quality of their data (they claim 99% of accuracy), I believe that it will be used as a major source for data feed. Timing Solution is able to work with the real time data from Interactive Brokers; this feature has been developed recently. To run it, download some price history this way:
Then follow these steps: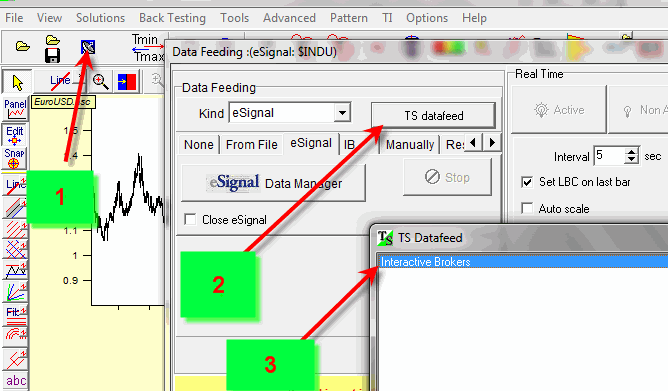 Metatrader 4 (and other software)
It is also possible to get real time data using some data file with previously stored price history. It works this way: some other program (like Metatrader 4, QCollect or other) stores the updated price history into some file, and Timing Solution updates the price history in a real time regime from this file. For Metatrader 4 this approach is explained here: http://www.timingsolution.com/TS/Mini/34/index.htm
Forex traders use this approach a lot. I am waiting for the release of Metatrader 5, they claim that they will provide data for stocks (as I know, now they do currencies, gold and major indexes). If the quality of these data will be good, I will consider the possibility to read their data directly, I hope it will be a good alternative for eSignal. We will see ...