How to perform PayPal payment
1) Click the button that corresponds to the product you are buying, like this:

2) You will get this window: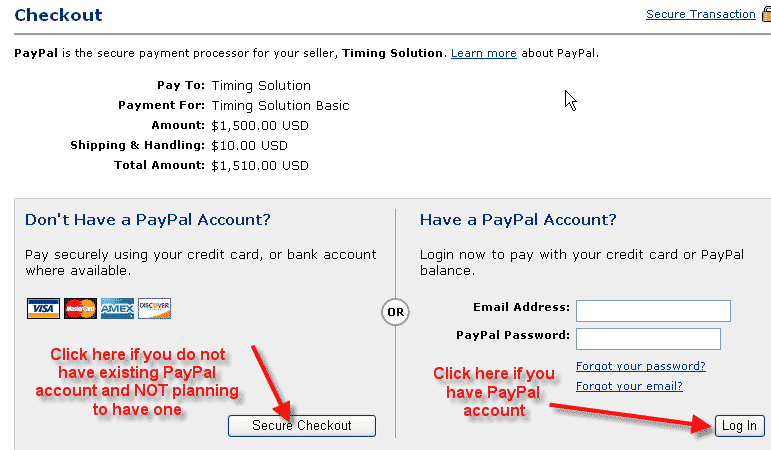 Sometimes this window also can look like this:
In any case,
a) If you do not have a PayPal account and are not planning to have one, choose "Secure Checkout" option or "Click here" button.
b) If you have already the PayPal account, log in and click on "Continue" button.
3) You will see the window to provide your personal information. The name you put here is the name that will appear in the Timing Solution invoice. Shipping address is important: the package with the CD will be sent to that address. Billing address maybe the same as the shipping address (mark "yes" below) or maybe different (sometimes users ask us to send a package to some other place; in this case, mark "no" and provide the billing address in the next window). Fill in this form and continue checkout: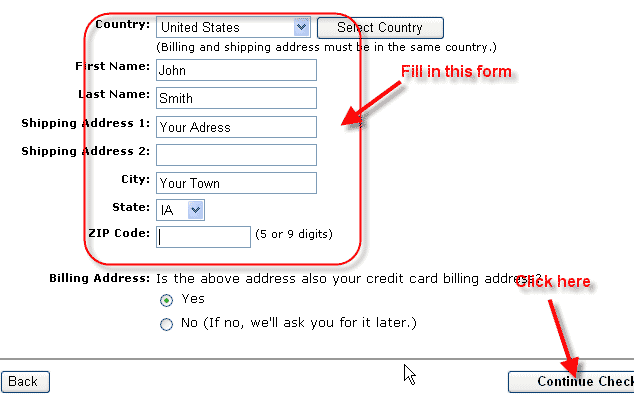 The next window sometimes causes problems. As we have figured out, two things are important here:
a) enter your credit card number without spaces;
b) billing address should be the same as your credit card company uses when it bills your account: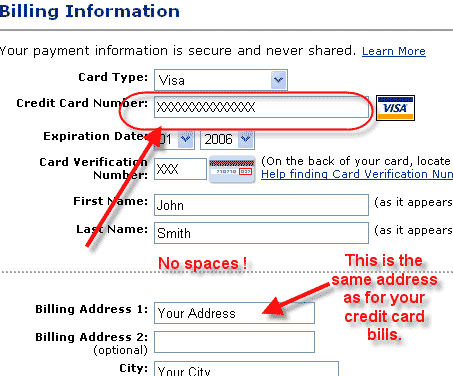 Also, there is a verification code there:

If you did all these steps attentively, there should be no problem.
If something goes wrong or for some reason you do not want to pay with PayPal, you may choose sending the certified cheque or money order to :
You can send a bank draft/certified cheque/money order addressed to:
Serguei Tarassov
4100 Ponytrail Drive #609
Mississauga Ontario L4W2Y1
Canada
You may as well to send money by WIRE TRANSFER. Please send us an e-mail timingsolution@rogers.com , to get the Wire Transfer Info.
I use PayPal payments for about 9 years and find this service very convenient. It is a reliable service.
However, sometimes you might get fake e-mails. I have contacted PayPal team when this has happened to me.
To protect your credit cards, you need to remember this:
PayPal always addresses you under the name you have registered your PayPal account;
If you ARE NOT PROCESSING a payment, they will not ask you to provide the credit card or bank account number and other info that opens the access to your money. It is exactly like any other bank: when you do a transaction, you give all the necessary info; otherwise, your info is nobody's business. PayPal officer told me never answer to these fake e-mails.